Products
Avalanche bulletin
The hazard map is zoomable. Clicking the map highlights the corresponding regions and opens a window containing the relevant danger description and the text on Snowpack and weather. The hazard map and danger descriptions are issued at 5 pm and, depending on the avalanche situation during the winter, updated at 8 am (see "Publication times and validity").
The description of snowpack and weather as well as the tendency for one or two following days refers to all of Switzerland and is only updated in the evening.
Print versions of the avalanche bulletin
Two versions of the Avalanche Bulletin are available in .pdf format for printing:
Full avalanche bulletin.
Regional hazard maps: Hazard map of a warning region with the danger description, but without "Snowpack and weather". Ideal for display in freeriding regions.
The avalanche bulletin in .pdf format can also be obtained from the archive.
Icons provide an initial overview of the avalanche danger.
Icon map
An icon map is a generic hazard map showing only the danger level. If separate hazard maps have been published for the morning and for the afternoon (double map), there will still only be one icon map, indicating the highest danger facing each danger region.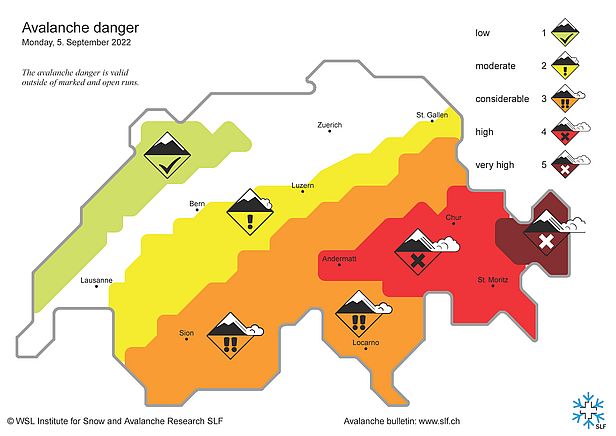 In addition to the avalanche bulletin, the SLF publishes numerous supporting products, such as snow maps, measurements recorded at snow stations, the AvaBlog and winter reports. These are described under the relevant product headings.