White Risk is a web-based, interactive avalanche prevention platform (www.whiterisk.ch) published by Suva and the SLF with the support of the Swiss Red Cross. It consists of the four modules EXPLORE, LEARN, TOUR and PRO. All the content is available in four languages. The platform raises awareness of the avalanche dangers that exist outside secured, marked open pistes, and offers a wealth of information on the subjects of avalanche science and prevention.
EXPLORE serves as a comprehensive interactive reference work on avalanche science. The module LEARN offers e-learning lessons with exercises and tests. The planning tool TOUR allows users to plan every aspect of a tour and link the itinerary to the White Risk app. Users can access Swisstopo maps with various layers as well as topographical maps for France and Austria. The module PRO enables users to create their own interactive presentations using the White Risk content.
White Risk is designed for individual learning purposes, as a resource for use in the classroom and avalanche courses, as a reference work on every aspect of avalanches, and for complete tour planning with all essential information. In addition, teachers, instructors and avalanche course leaders can purchase affordable student licences with various durations.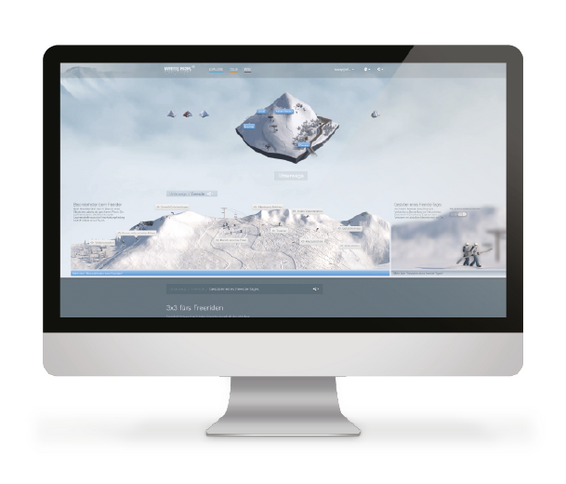 EXPLORE
In the knowledge section you can learn all about avalanches. Here you will find text, images and animations that will provide with you important information about avalanches for snow sports away from the secured pistes. This module is also a suitable work of reference on avalanche prevention content
LEARN
In a series of coordinated lessons, this module teaches you more about avalanche science step by step. Each lesson has a learning objective. Entertaining exercises serve as an incentive to put into practice and consolidate what has been learnt. At the end of each lesson you can test your newly acquired knowledge in a quiz. Each of the lessons also contains numerous links to related topics in the EXPLORE module.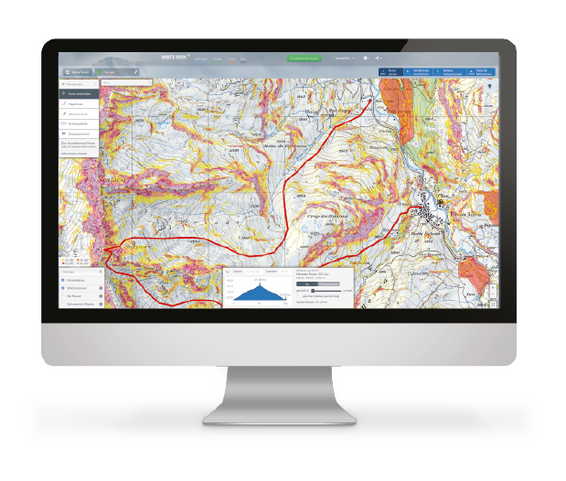 TOUR
This sub-site enables you to plan any number of tours completely online. It already encompasses maps, as well as the avalanche bulletin and weather reports. Alongside the collection for Switzerland with a variety of additional layers (e.g. slope angle and ski touring and snowshoe hiking routes), topographic maps with slope angle layers are available for France (IGN) and Austria (BEV) as well. Tour plans are synchronized in the TOUR module of the White Risk app and made available there for use offline. They can also be printed in PDF format.
PRO
White Risk PRO gives you access to the presentation module, which is used for teaching purposes in particular. In the Media Explorer you can download lots of visuals, images and videos for use in presentations (e.g. PowerPoint).
You can also use the specially developed, user-friendly Desktop Presenter to show interactive media offline and embed the content in PowerPoint presentations. Only holders of a valid PRO licence can access the Desktop Presenter. PowerPoint presentation templates are also available.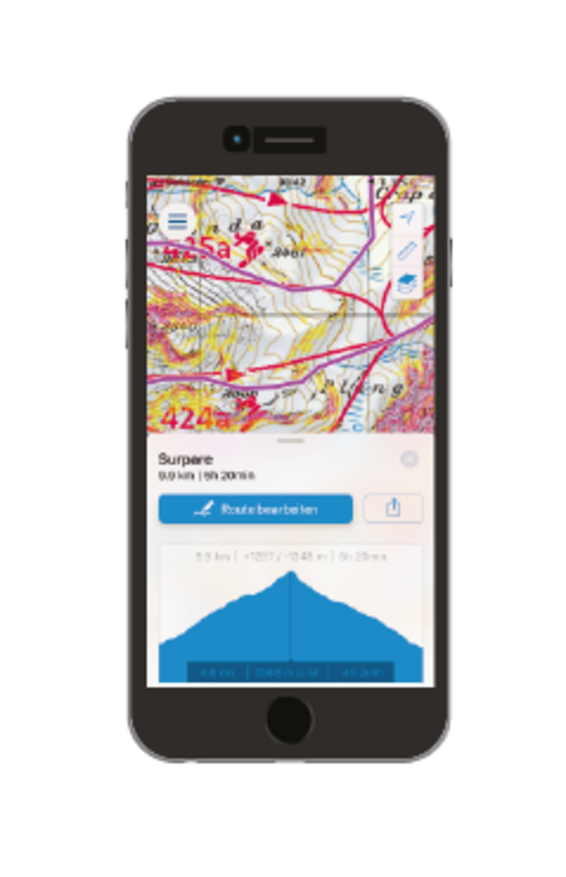 App
By way of the avalanche bulletin and snow and weather data, the smartphone app gives you up-to-date information about the snow and avalanche situation in Switzerland. The TOUR function provided by the app allows you to plot tours offline, edit existing tours, and display existing tours on maps. Any number of topographic maps with all the layers for any section can be downloaded, irrespective of the tours that you have planned. The smartphone's GPS function shows the user's current location on the trip plan. You can share planned tours directly with your friends.
Free version
EXPLORE: Unrestricted access to the chapters "Basics", "Danger Ratings" and "On a Trip".
LEARN: The lesson 'Avalanche danger ratings and warning signs' is free of charge.
TOUR: You only have access to White Risk TOUR with OpenStreetMap maps (worldwide).
Standard licence
With a White Risk standard licence (CHF 29 per year), you gain access to the following information and applications:
EXPLORE: Full access to all the chapters of the Explore module.
LEARN: You have unrestricted access to all the available e-learning lessons, including the tests.
TOUR: Topographic maps with slope angle layers are available for Switzerland (swisstopo), France (IGN) and Austria (BEV) as well as OpenStreeMaps (worldwide). Any number of topographic maps with all the layers can be downloaded with the White Risk app.
Pro licence
The PRO licence (CHF 58.00/year) is intended primarily for instructors and teachers hosting avalanche courses or other educational programs. It gives you additional access to the specially developed presentation tool Desktop Presenter and a wealth of media from the EXPLORE module, which can be downloaded and used in PowerPoint. The tool enables you to produce and deliver professional presentations that are rich in content. For presentation purposes the Desktop Presenter can be linked to PowerPoint. This licence also covers all the user options provided by the standard licence. The PRO licence allows you to purchase student licences as well.
Student licences
You need a Pro licence in order to purchase student licences. You can purchase licences for any number of classes with up to 50 students per class. Student licences are available for a term of 3, 6 or 12 months. Each student has a separate login that permits use of all the functions available with a standard licence. You can convert an expired student licence into a regular White Risk licence without losing saved trip plans. The price depends on the number of students and the period covered by the licence. For a term of 3 months and 30 students the licence costs CHF 3.20 per student.
Trial version
This version offers an insight into the compelling benefits of White Risk by giving you a one-time opportunity to enjoy 7 days' free access to the full version of EXPLORE (all chapters), LEARN (one lesson), TOUR and PRO (restricted). It allows you to test the full functionality. After 7 days, your trial registration becomes a normal account with a free licence. You can upgrade this licence in your user account at any time. If you do not wish to purchase a licence, you can use the restricted access provided by your account.
Contact